Sub Chase 64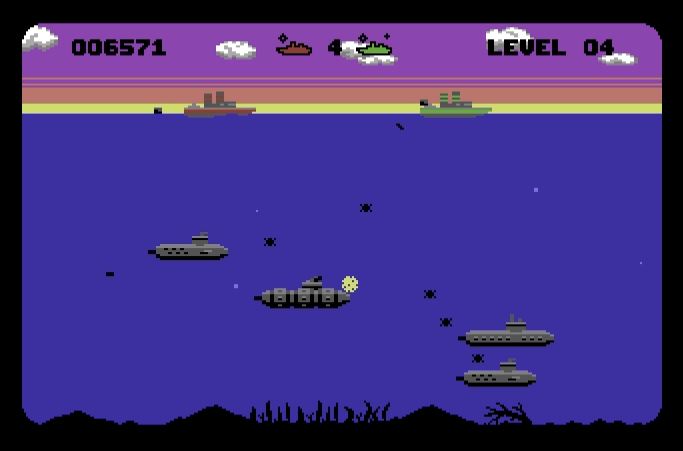 A VIC 20 Sub Chase remake for the Commodore 64

Programming, graphics and sound by Karsten Senkel


FEATURES
8 different enemies
3 game modes for 1 or 2 player simultaneously
Weapon upgrades
Balanced difficulty curve
Highscore table


CONTROLS
Joystick port 1 & 2
RUN/STOP-Key to pause current game


GAME MECHANICS
Game starts with 3 lives for each player.
An extra life is provided every 10000 points.
In cooperative mode there is a common
life counter for both players, so a gained extra
life can revive a previously eliminated player.
At the beginning, every ship is equipped with
2 depth charge launchers and a shockwave bomb.



By wrecking special targets, 3 additional launchers
can be obtained, so that a maximum of 5 depth
charges per player can be active at one time.
If all possible launchers are in place, the destruction
of more special targets will restore missing
shockwave bombs. If these bombs are already present,
shockwaves are triggered.
Loosing a life decreases the number of additional
launchers. A new shockwave bomb is also provided
with every new level.


NOTES
Sub Chase 64 is developed for PAL systems but
will also run (a little faster) on NTSC.
Sub Chase 64 has been tested on real hardware
(CRT recommended) as well as on the Vice emulator.
Sub Chase 64 is SD2IEC compatible (single load file).


BACKGROUND
Sub Chase for the VIC 20 was written by
Roger Merritt and published by UMI Inc. in 1982.
The booklet reads:
"The mines bubbling up from dreaded fleet of
submarines tunneling the water beneath you
can be defeated by well-placed barrages of
depth charges from your nuclear Sub Chaser.
Destroy the subs and you will destroy the
danger. The more successful you are, the
heavier the attack, so go for high score"
This game had fascinated me at the time and since
I could never find a corresponding version for the C64,
I now tried to make one myself.
Download
Click download now to get access to the following files: